Fire Department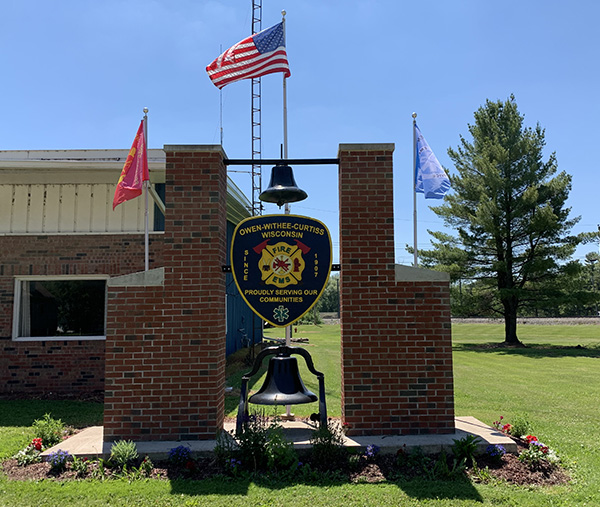 Owen Station
427 E. Third St
Owen WI, 54460
Emergency - 911
Non Emergency 715-229-2652
Fax 715-229-9252
Mailing Address:
P.O. Box 36
Owen WI, 54460
The Owen Station is where our admin office is located and is our primary station for business. Normal hours are 8a-4p Monday-Friday

Visit us on facebook
Officer List
Chief - Travis Serocki
Deputy Chief - Jason Wagner
Fire Assistant Chief – Lonnie Kroeplin
EMS Assistant Chief - Earl Brubaker
Battalion Chief - Diane Benrud
Battalion Chief - Lester Brubaker
Captain - Bob Wilczek
Captain -
Captain - Sean Wiese
Lieutenant - John Oberholtzer
Lieutenant - William Kroeplin
Lieutenant - Jeffrey Burkholder
Health and Safety - Grace Dale Training Officer - Russel Person
The Owen-Withee-Curtiss Fire & EMS District, provides fire and EMS services to the City of Owen, the Villages of Withee and Curtiss, and the Townships of Longwood, Green Grove, Hixon, Hoard, and the Township of Maplehurst in Taylor county. The district is made up of 180 square miles.
Members of our department have been proactive with continuing education opportunities. The Owen-Withee Curtiss Fire and EMS District is the first department in Clark County to obtain Advanced EMT certification. This provides advanced medical treatment to the citizens in the fire district. We are able to establish I.V. access and administer limited medications which improves the care that can be given to those in our Fire District. In addition to maintaining AEMT, EMT and First Responder licensing, several individuals maintain Hazmat Technician certification, firefighter 1 certification, and firefighter 2 certifications. Education opportunities in the emergency services are endless, and members of our services continue to exceed their requirements.
We continue to seek new applicants for membership for the Fire Department and Ambulance Service. Membership on the department is challenging and demanding, often with time spent away from family and friends at the most inopportune time. The main reward and benefit is the ability to help someone in their time of need. If interested in joining the fire department or the ambulance service, please talk to an existing member or stop by the Owen Station.
Fire protection for our district is provided with vehicles and members responding from the Owen and Curtiss stations. Two engines, one ladder truck, one rescue truck, three tenders (water tankers), one command / EMS Support vehicle and two brush trucks are used to respond to emergencies across the district. Three fully equipped ambulances are maintained and staffed with Advanced EMT's, EMT-Basic and Emergency Medical Responders (EMRs') ready to assist with medical emergencies. In addition to our local response, we sustain and support a strong mutual aid relationship with our surrounding departments.