Refuse & Recycling Information
Forms & Applications To view or print Recycling Information Flyer PDF please visit our Forms & Applications page
Single Stream Recycling
All the following items can be placed together in recycling container provided by Express Disposal:
Glass
Plastic
Aluminum Cans
Tin Cans
Paper & Cardboard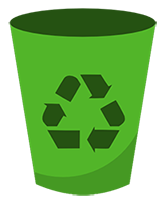 What is my garbage pick up cost?
Refuse charges for garbage and recycling are currently $32.75 per quarter.
Questions on your Refuse/Recycling?
You can call Express Disposal at 1-800-440-4990 for carts and or roll off dumpster services.