Refuse & Recycling Information
Forms & Applications To view or print Recycling Information Flyer PDF please visit our Forms & Applications page
Single Stream Recycling
All the following items can be placed together in recycling container provided by GFL Environmental:
Glass - rinse clean, remove and discard plastic lids and caps. NO windows, mirrors, ceramics or light bulbs.
Plastic - rinse clean, remove and discard lids and caps. NO plastic bags, film, or styrofoam.
Metal - rinse clean. NO E-waste, TVs or computer items.
Paper & Cardboard - break down cardboard into 2x2 sections. NO greasy pizza boxes.
Please place your carts 4 feet from any obstacles such as other carts and mailboxes.
Remember, state and local laws require everyone in Wisconsin to recycle newspaper, magazine, cardboard, food and beverage containers, tires, yard waste, appliances, motor oil, lead acid batteries and office paper. Wisconsin DNR Adm. Code NR 502.06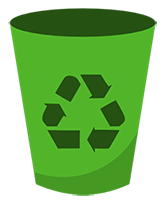 What is my garbage pick up cost?
Refuse charges for garbage and recycling are currently $32.75 per quarter/ $10.75 monthly.
Questions on your Refuse/Recycling?
You can call GFL Environmental at 715-669-3868 for carts and or roll off dumpster services.